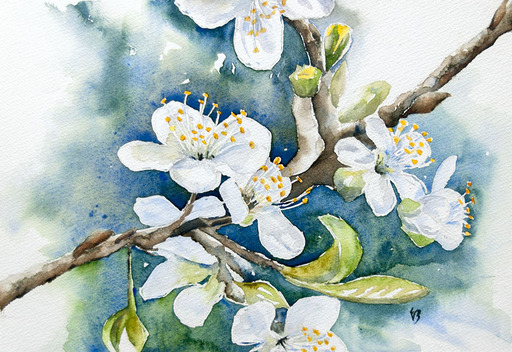 Ellen Visser-Bergsma (1968) Atelier AquarEllen, she is a self-taught artist. Before developing her passion for watercolours, she took an interest in flower art, gardening, nature and reading. As a certificated flower styllist Ellen has worked for multiple companies.
Her work with flowers and nature gives a new perspective, also on the way she photographs and on how she finally transfers her images into watercolors.
Also a degree in art history helped her develop a deeper comprehension of viewing. Drawing and painting the things around you contributes to the way you look at them.
Peace and quiet and the art of omission are the basis for her work.
She followed several workshop wiht a.o.Galyna Aguf, Hannie Rieuwerts, Jeroen Bijl, Adrie Hello, Margo van Vegchel, Guy Gruwier, Mineke Reinders, Arie Jekel, Gerard Hendriks.
She regularly gets the opportunity to exhibit her watercolors.
On request Ellen makes watercolors for individuals and companies.
You can visit Atelier AquarEllen in Zwiggelte, Westeres 5, at friday's 13.00 - 16.00 uur and by appointment. Closed from 1 november 2018 till 1 april 2019, during this period you can visit the studio by appointment.
KvK-nummer 61604267/ BTWnummer NL102301013B01